Executive Music Group has announced Del Currie, aka Zoo Seven, will offer his debut album, "Lifesaver," for free download on July 12th. Though "Lifesaver" is the debut release from the Northern Ireland native, Currie spent many years recording and playing with his former band Fono. With a number of unique influences such as The Alarm and Cactus World News laying the groundwork for Zoo Seven's story telling songs, the group took home the prized award for Best Rock Song at the International Song Writing Contest in 2005. Touring with a number of famed artists including The Goo Goo Dolls, Tonic and Third Eye Blind, as well as working with top recording professional Chris Sheldon (Foo Fighters, Radiohead), this is one album any fan of music will want to check out.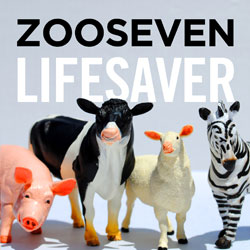 Zoo Seven has lived in Ireland, England and California, swept up broken wine bottles for a job, mixed sound for the Glenn Millar Orchestra, been burned down and built up again, worked in a fruit packing factory, played in front of 50,000 people, played in bars to the barman alone, and sung songs where people sing along. Who knows what's coming next, but it will be interesting to find out.
Visit Zoo Seven's official website to download your free copy of "Lifesaver" for a limited time.
BYLINE:
Jason Tanamor is the Editor of Zoiks! Online. He is also the author of the novels, "Hello Lesbian!" and "Anonymous." Email Jason at
jason@zoiksonline.com
.